Philosophy
Welcome to Seven Heaven, the new dimension of delight
SEVEN HEAVEN IS ART
Immerse yourself in a location of abstract beauty. Experience heaven, be able to nearly touch it. Celebrate the seven senses and experience food becoming art. Art is the intertwining element of a production by Barbara Kunz that you will experience during the evening in SEVEN HEAVEN.
ART SPACE

SEVEN HEAVEN is seven tables, each with seven chairs. Seven dimensions – the importance of which you will come to understand during the course of the evening. Each table is unique, created through many hours of handiwork by an artist. It might be that you will sit an entire evening at a gigantic tree root or at a table with reflecting mirrors. You can choose the table yourself. Captivating pictures on the wall and monochrome effects submerge you into an unknown world – the world of your essential being.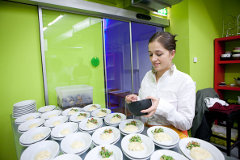 ARTFUL EVENING
SEVEN HEAVEN is not a restaurant, even though the celebration of the seven-course meal is one of the unique elements of every evening. Eating becomes art, and every course turns into an individual experience.. Invite your friends, your family, your business partners – be amazed together, laugh together, let yourselves be inspired together, exchange ideas and experiences. Say what you have always wanted to say. SEVEN HEAVEN offers the ideal framework.
ART OF SOUND
The resonance of Tibetan horns blend in harmony with Japanese drums, the mesmerizing sounds of the Amazon interact with the fragile tones of the African savanna. Sensuous sound collages with tonal music will put you in a very special mood. Interacting with this titillation of the senses will be surprise performances by various artists.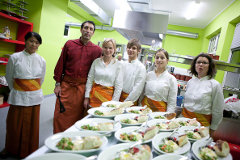 ANGEL'S ART
Let yourself be abducted into the city of angels. Experience heaven over Vienna with your own personal host, the SEVEN HEAVEN ANGEL, who will care for you and your table the entire evening. He will guide you through all the fascinating stages and highlights of the evening to insure that everything is to your liking.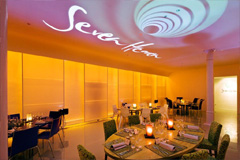 ART OF HEAVEN
For one evening, heaven is directly above you, because the entire ceiling of SEVEN HEAVEN is a multi-media world filled with adventure. You just lean back in your comfortable designer chair, look up, and let yourself be enchanted.


You will truly experience seven heavens – seven films, pictures, moments, and impressions that will stay with you. Just as on a clear starry night, you will be captivated by what is taking place directly above you and, as a result, what will be taking place within you.